Ardrie Park
McGregor Street
Malvern East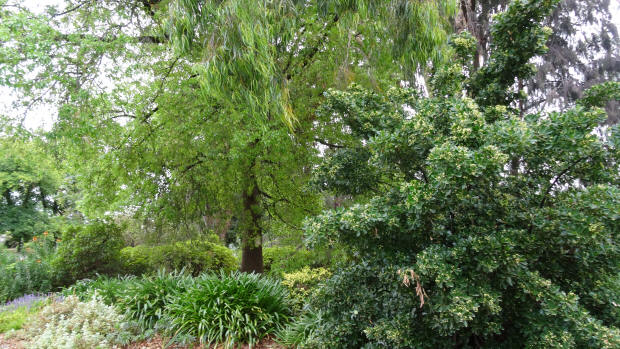 Melbourne�s suburbs have some wonderful parks hidden away in unexpected places, and the leafy eastern suburbs have some of the best of them.
Take for instance Ardrie Park in Malvern. A quick glance at the map will show how it is off the main road and surrounded on three sides by houses. In fact, it may be that those houses were built on designated parkland that was later sold off in much the same way that areas of Royal Park were sold off to create large sections of Parkville. If that is the case, then it is a long-established Melbourne tradition that any further incursion on such parkland should be opposed with a righteous zeal by those who enjoy the benefits of previous incursions. However we have not as yet been able to trace the full history of this semi-enclosed park.
The centrepiece is the wonderful winding avenue of mature elm trees with established flowering shrubs around the perimeter. There are barbecues, tennis courts a children�s playground and an off-leash area for dogs. The dogs get to run free while the children are enclosed within the fenced playground - make of that what you will.
The park is usually fairly quiet with plenty of space to for all comers to find a quiet corner. On a weekend many are locals but there are other regulars. Some discovered it having ferried the older children to ballet and football and violin lessons and then having to find somewhere nearby to spend an hour with the little ones have stumbled across this hidden gem. In some cases it becomes a favourite that the kids insist on returning to. Others are there because it is a safe distance from Chadstone. Mum drops dad and those of the children born without the shopping chromosome there and picks them up on the way back. Others who live in the inner city just to take the tram out there and spend half a day under the trees reading a book.
Some forthcoming events at Albert Park:
___________________

___________________