Rhododendrons
Some locations and events featuring rhododendrons:
Open Garden - Lavender Hue
As part of the Bright Spring Festival, Lavender Hue will be open to the public.
Visit this working Lavender Farm in an idyllic lush riverside setting.
A tree lined drive of Canadian Maples, Pencil Pines & Liquid Ambers welcome you with lavender fields on either side. Rhododendrons, Azaleas & Irises  also make for a picturesque spring setting.
Relax on the deck or in the wisteria laden courtyard, savouring oven fresh Devonshire tea (as an extra) while enjoying the sounds of the sparkling Ovens River & views of the surrounding bus;
Open Garden - Shady Brook
As part of the Bright Spring Festival, Shady Brook will be open to the public.
Shady Brook is set on 14 acres, over 7 of which are landscaped and planted with thousands of spring flowering shrubs such as camellias, rhododendrons, azaleas and many others including Australian natives. There are also large plantings of unusual and rare conifers. The property also contains many rare and exotic trees and shrubs.
Shady Brook is set on the Ovens River with natural bush and walking tracks as a backdrop that take you up for spectacular views of the Mt Feathertop range. There is also a large and relaxing water feature and walks along the river. You need to allow at least one hour appreciating the garden. Free garden notes and tea/coffee/biscuits are provided, also toilet facilities available. Buses and large groups by prior appointment please.
This garden will also be part of the two Thursdays Harrietville tour day see details in the calendar of events.
Open Garden - Nightingales Apples
Open Garden - Jennifer Clancy designed garden at Lal Lal Estate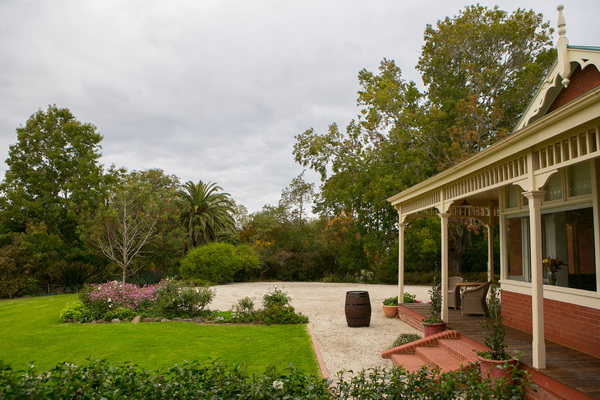 Lal Lal Estate was established in the 1850s on the banks of the Lal Lal Creek south of Ballarat by the Fisken family. Over six generations of the family have developed one of Victoria's finest merino sheep properties and during this time have established wonderful homestead gardens which include many significant trees including century old English and American Oaks, Sequoiadendrons, Monkey Puzzle and Weeping Elms. In 2014 the stewardship of Lal Lal passed onto Tianyu Wool who have been equally as passionate about the property and its gardens.
The centrepiece of the existing garden has always been the mesmerising lake views with foreground of sweeping tranquil lawns and the background of Eucalyptus mirrored in the still water.
The original extensive shrubberies and mixed borders have been expanded with a wide collection of Camellias and Rhododenrons, Viburnums and Philadelphus in the sheltered areas, and Cistus, Rhaphiolepis, Escallonia, Euphorbia and Iris in the dry open areas. The understory of the woodland gardens has been increased with Hellebores, Japanese Windflowers, Cliveas and Epimediums. A wider variety of trees has been introduced with a collection of Cornus, Flowering Cherries, Maples, Ginkgo and Palms.
Visiting Lal Lal (aboriginal word for water) is a wonderful opportunity to see a heritage garden with significant completed renovations, and continuing development works underway. This is an opportunity to enjoy a garden still unfolding.
Full details of this garden here.
Individual tickets available at gate or weekend passes available at booking site.
Full details of the two weekends of the festival at Garden Designfest
Campaspe Country House has a wonderful example of an early Edna Walling garden which changes character with the seasons.
Spring features the colours of rhododendrons, azaleas, crab apple trees, camellias, jonquils, daffodils, Grandmother's bonnets and iris.
Autumn features the colours the region with 80 year old liquidambars and maples
Summer reveals the shades of greens a long established garden can produce.
Winter allows the large feature trees like red cedars and the rare Macedon oak (which stays evergreen) become the chief attraction.
In addition there is a kitchen garden featuring espaliered olive and pear trees and an excellent selection of herbs and vegetables.
Please note: Campaspe House is a privately owned Country House Hotel and restaurant. This means that the gardens are not generally accessible to the general public. However White Hat recommends that house guests and restaurant patrons should take at least some time to wander through these special gardens. Restaurant bookings are essential and you can find details at the Campaspe House website. More info >>
National Rhododendron Garden
At The National Rhododendron Gardens you will find brilliantly coloured blooms of rhododendrons, azaleas, camellias, cherries and daffodils. Seasonal changes ensure the gardens are a delight all year around. When not in bloom, you can still soak in the beauty of rich bark textures, seed capsules, foliage shapes and beautiful fragrance as you stroll through the grounds. National Rhododendron Garden