--> Ferns
Some locations and events featuring ferns:
Open Garden - Buffalo River Native Nursery
As part of the Bright Spring Festival, Buffalo River Native Nursery will be open to the public.
We have a five acre block on the corner of Buffalo River Road and the Merriang South Road in Myrtleford that backs onto the Buffalo River. The garden is about 28 years old and contains mostly native plants with a small orchard and fruit and vegetable plots. Plants include grevillea, callistemon, eremophila, banksias, waratah, several ferns and a large range of kangaraoo paws. Several indigenous plants grow along the river, which is mostly cleared of black berries. We also run a small native nursery with heaps of plants available for purchase.
We will have a garden tour at 11am each Sunday
Open Garden - Cameron Paterson designed garden in Toorak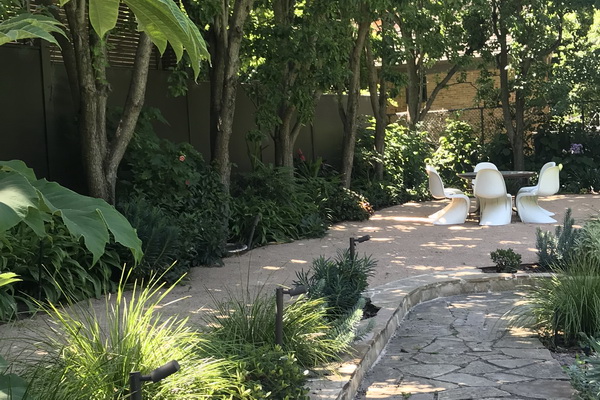 The pool terraces contain significant palms which are under planted with Aloes and ferns to a create lush green space. The kitchen garden terrace now contains espaliered citrus and an abundant herbaceous picking garden with soft flowering plants.
The lower terrace (overlooking the tennis court) has been transformed into a cool, tranquil place to sit on hot summer days. This area of the garden has been completely opened up and resurfaced with shade loving plants spilling out of garden beds.
For this active family, there is now no area of the garden that isn't used and enjoyed.
Full details of this garden here.
Individual tickets available at gate or weekend passes available at booking site.
Full details of the two weekends of the festival at Garden Designfest
Forest Glade Gardens is one of Australia's finest private gardens. It is short trip from Melbourne and is open to the public from September to May. It features large exotic trees, a bonsai house, a woodland section, a fern gully a blue bell patch and an impressive daffodil lawn during spring; a topiary garden, two aviaries, a laburnum arch, a peony walk highlighted with climbing roses, as well as numerous pergolas, ponds, fountains and statues. Entry $8 per head (children free); More info >>